Error Handling
Debugging your jobs
Background tasks will fail. APIs can become temporarily unavailable, databases fail, networks are unreliable and more. In order to fix errors, Zenaton provides the tools to quickly identify errors in tasks and retry them.
Errors are automatically reported on the Dashboard and categorized by workflow or task and error type
Drill down to see error messages, stacktrace and more
Pause, retry or kill the workflow or tasks
Failures are identified and reported on your Zenaton Dashboard . In case of a failure during a running instance, you can quickly see the details by clicking on the failed task. The task detail will appear with stacktrace.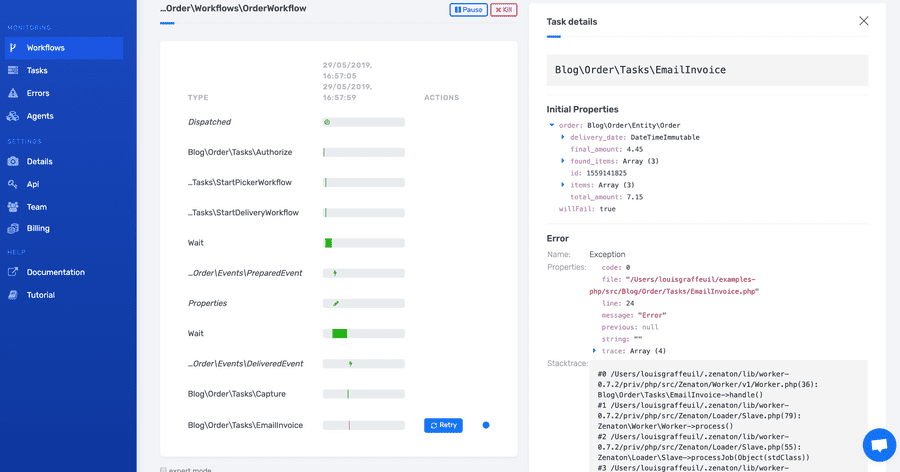 Errors Tab
On the Zenaton Dashboard, the Errors Tab shows a list of all failed tasks, whether there are single tasks or included workflows.

Errors details
When you click on an error class, you have all the details about failed tasks and have the opportunity to retry all manually.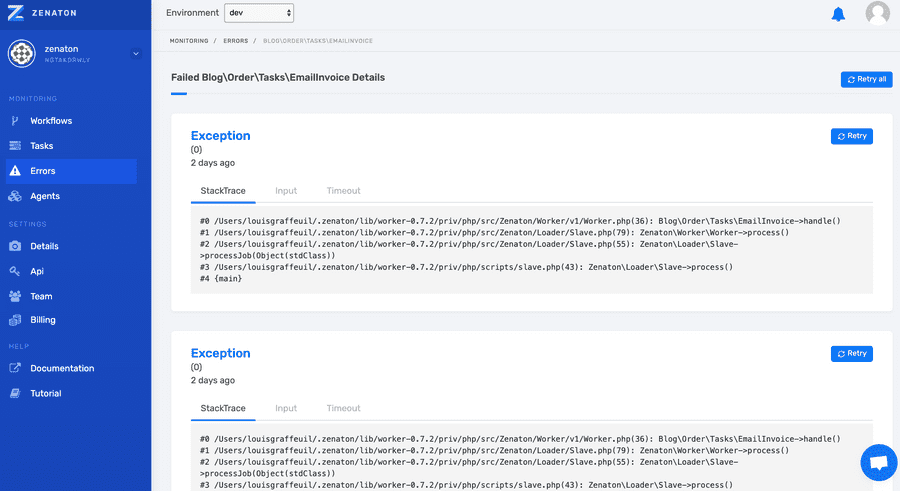 Retries
When using Zenaton you can retry failed tasks manually on the dashboard or automatically by writing it into the code.
Manual Retry
Login to the dashboard and retry failed tasks from the workflow tab or on the Errors Tab. On the errors tab, you can retry an individual instance of an error or 'retry all' occurrences.
Alerting
You will receive alerts whenever an error occurs for a task or workflow so that you can log into your dashboard and investigate or retry the task or resume the workflow.
According to your alerting preferences you can receive the following emails:
Immediate email for the first daily occurrence of a task or decision error (including timeouts)
A daily summary of all the errors from the day before, if any
Timeouts
Timeouts can occur for different reasons - lack of response from an API or launching workflows without the sources, etc. If there is a timeout error for your tasks or workflows it will appear in the list of errors where you can see the details.
Note that a timeout occurs if a task lasts more than 5 minutes (max processing time) or if a decision lasts more than 30 seconds.